Invisalign i7

braces in Wimbledon
Invisalign i7

is the newest evolution of

Invisalign
What is
Invisalign i7

used for?

Invisalign i7 is the newest evolution of Invisalign, and it's been designed specifically to treat very mild crowding or spacing with just 7 aligners!. So if you have slightly crooked teeth and can't face the prospect of lengthy orthodontic treatment, Invisalign i7 could be the brace you've been looking for, with treatment lasting just 14 weeks.
How does
Invisalign i7

work?

It works in the same way as the original Invisalign; using a sequence of virtually invisible, clear aligners to straighten your teeth, however Invisalign i7 only uses 7 aligners to straighten the teeth, each worn for approximately 1-2 weeks. This means that most Invisalign i7 cases are finished in about three months. The aligners work by applying pressure to specific teeth at different times, gradually moving them into the desired position.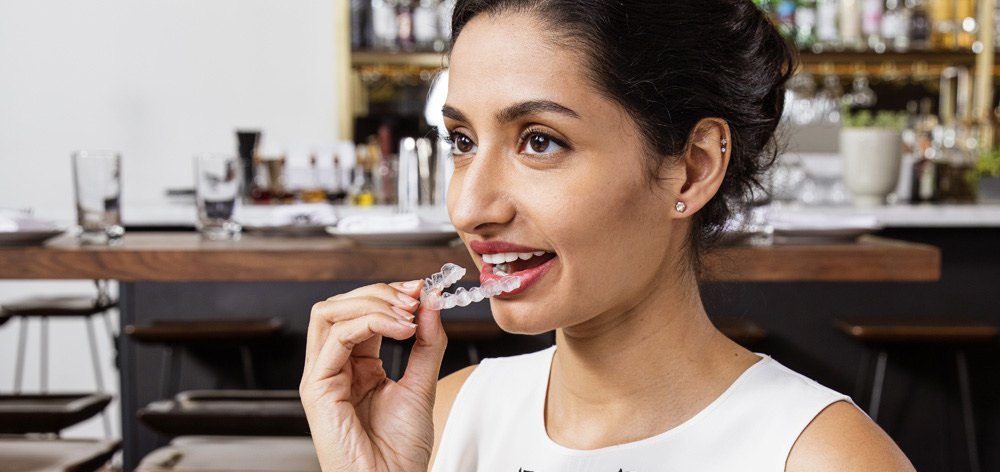 The benefits of
Invisalign i7
Invisalign i7

lets us treat mild cases efficiently and discreetly – treatment usually takes only 3 months

Invisalign i7

is our most affordable

Invisalign

brace, and treatment starts from £1,500 including teeth whitening and retainers
You can visualise your end result at the beginning of your treatment, thanks to Invisalign's state-of-the-art ClinCheck® software
Invisalign's clear aligners are very inconspicuous and virtually undetectable
You can remove your aligners to brush your teeth, to keep your smile fresh throughout your treatment
And you can continue to enjoy your favourite foods without worrying about what's hiding in between your braces

Invisalign

aligners are custom-made using a material developed by NASA, ensuring optimum comfort and durability
Invisalign i7

FAQs
Invisalign and Invisalign i7 work in the same way, moving teeth using a series of aligners. The important difference is that Invisalign i7 uses just seven sets of aligners – straightening teeth in as little as three months.

Invisalign i7 is designed to straighten mild crowding and orthodontic relapse. If your case is more complex, you might be better suited to Invisalign or Invisalign Lite.

To keep your teeth straight in the long term it's important to wear fixed and/or removable retainers once you've finished your Invisalign treatment.

Invisalign i7 treatment at The Wimbledon Dentist starts from £1,500, don't forget to keep an eye out for special offers.

The original Invisalign clear brace ideal for moderate to complex cases

Invisalign Lite uses fewer aligners making it ideal for simpler cases