Dr Margaret Laird, BA BDentSci, MFD (RCSI)
Dentist - GDC No: 250094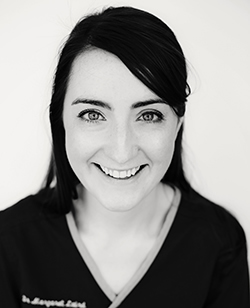 Dr Margaret Laird graduated with honours from the Dublin Dental University Hospital, Trinity College Dublin. Maggie, as she's known, went on to undertake a House Officer post in Dublin Dental Hospital during which time she was awarded membership of Faculty of Dentistry by the Royal College of Surgeons in Ireland following completion of extensive postgraduate training and examinations. She then worked in an award winning private practice in Carlow, Ireland before moving to London to join The Wimbledon Dentist.
Maggie is completing her Masters in Primary Dental Care. She enjoys continuing education and looks to bring her patients the highest standard of care in a relaxed, comfortable and friendly atmosphere.
Known for her warm and friendly nature she is particularly popular with our nervous patients and patients who have not seen the dentist in a long time.
She has a keen interest in all aspects of general dentistry, particularly white fillings and root canal treatment and enjoys educating patients on how to maintain good oral health.
She is keen to make your dental experience as pleasant (and enjoyable!) as possible and will take the time to discuss all of your concerns and your possible options for keeping, or making, a healthy and attractive smile.